Hear Well Be Well™ is an independent, authorized dealer of Beltone™
In addition, we service and sell most other hearing aid brands available in the Ontario market. Our recommendations are based on years of experience and expertise in the industry, and we select hearing aids that meet our superior standards of quality, reliability, service, using the latest technology.
Beltone's hearing solutions are developed using only the latest hearing technology and are designed to fit just about any lifestyle and hearing loss. Explore this section to learn more about Beltone's state-of-the-art hearing aid technology and how we can meet your cosmetic needs with one of our many hearing instrument styles.
---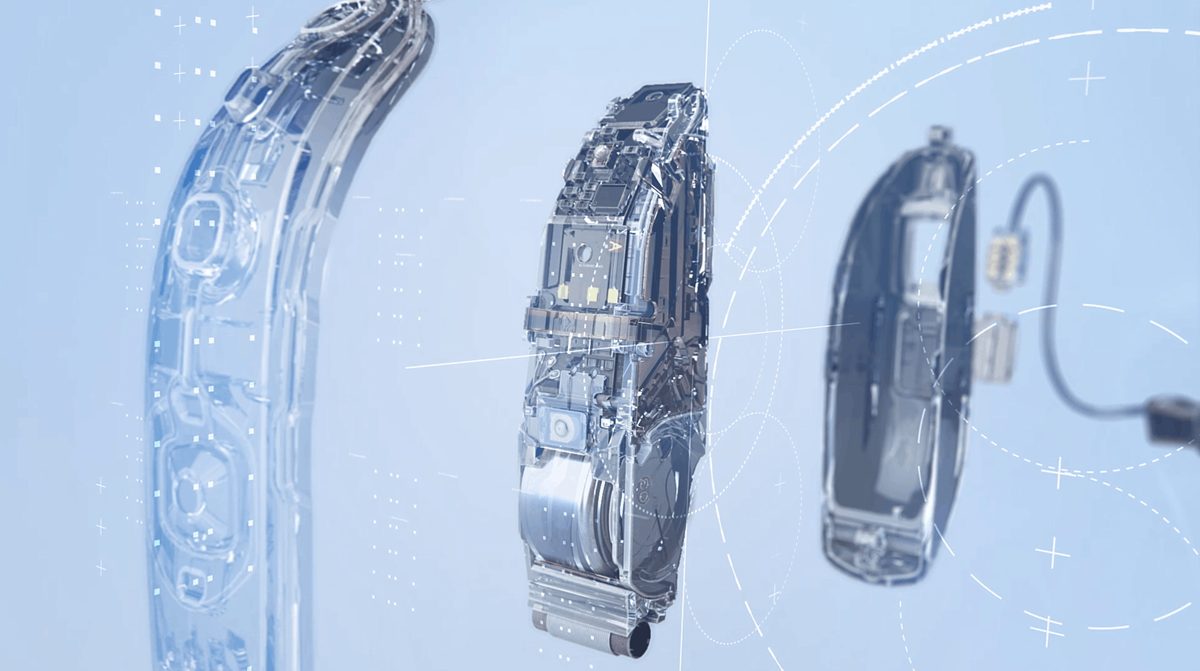 Hear As Nature Intended
The new Beltone Imagine has groundbreaking technology that surpasses all others on the market. Its combination of a Microphone & Receiver-in-Ear (M&RIE) can easily filter incoming sounds and delivers them to the user in the most natural amplification possible. This ensures that you hear not only the intended conversation but the background noise as well. This puts you present in any situation, anywhere you choose to go with ease.
Made To Work In Any Situation
With the Beltone Imagine, you can feel more comfortable and involved in various social settings. With the help of the CrossLink Directionality 3 technology, you'll receive all the sounds in your surrounding environment. This will allow you to focus on the sounds that you want with the option to feel still present in your environment.
The CrossLink Directionality 3 technology works to monitor all the sounds in your environment continuously. It will provide you with the best speech understanding possible, and you'll never have to worry about disorientation. The Beltone Imagine will immediately adjust to each environmental situation to provide the best sound quality in that specific environment.
The Ultra Focus technology provided with each new Beltone Imagine makes zeroing in on any conversation a breeze. This brand-new feature provides speech clarity and more social freedom to the user. When you find yourself in a noisy environment, such as an outdoor event or a busy restaurant, you can turn on the Ultra-Focus feature. This feature triggers your hearing aids to only focus on the sounds directly in front of you. This helps to eliminate unnecessary distracts and allows you to fully focused on your company.
The only hearing solution
tailored to you.
Click here to explore all the benefits of Beltone Imagine.
Beltone Imagine™
Your tailored experience.
The Beltone Imagine is the first of its kind that provides customized hearing devices that fit the actual shape and contour of the user's ears. This allows each individual to hear sounds naturally, in all environments. Finally, a hearing device that will enable you to hear just as nature has intended you to.
Stay Engaged
With the vast amount of technology around us, your hearing aids should be no different. Thankfully, with direct audio streaming to your hearing aids, you can enjoy crystal-clear audio anytime. With our Bluetooth® Low-Energy capability, you can stream music, podcasts, audiobooks, phone calls, or even your GPS directly to your hearing aids.
Unlike other hearing aid devices, we employ mix-in audio streaming. This feature eliminates any connection delays to ensure that you don't ever miss a word. Whether it's your favorite tune or talking with a loved one, you'll hear every precious moment with the Beltone Imagine.
Countless Ways To Connect
Every Beltone Imagine hearing device is compatible with the Beltone HearMax™ app. This intuitive app allows you to control your hearing devices from your smartphone easily. You'll have complete control over things like noise reduction, program adjusting, speech focus, volume, and so much more. The Beltone HearingMax app can be used from any iPhone, Android, or Apple Watch. All you need to do is download the app to get started.
The connectivity features of the Beltone Imagine can easily keep you connected to your favorite technologies. We offer a wide range of accessories that allow you to personalize your listening experience.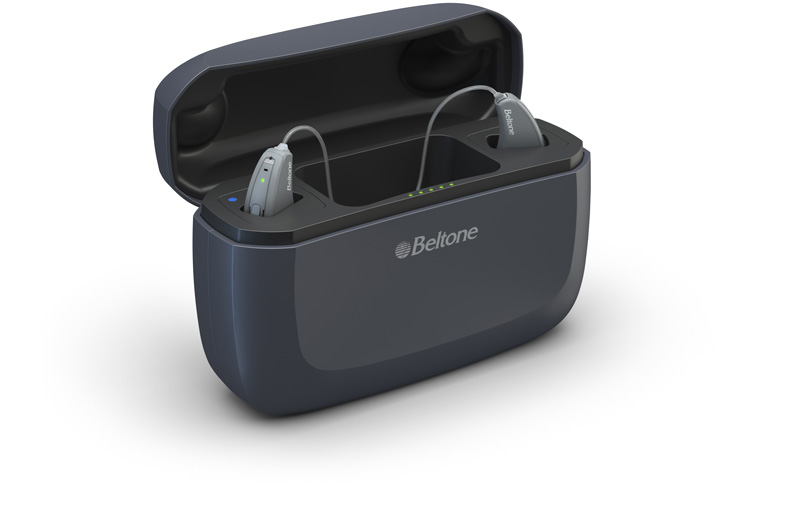 Beltone Amaze™
Make every day amazing.
Every day is filled with special moments that make our lives amazing. Every word, laugh and sound add to our relationships and experiences. Beltone Amaze ensures you won't miss a moment.
The most complete hearing care solution
We are thrilled to announce our latest and greatest—Beltone Amaze™, our most complete hearing care solution. Enjoy an amazing hearing experience all around with some of the most innovative features available. Beltone Amaze will give you an amazing hearing experience in all the moments of your life with a clearer, fuller and richer sound.
It's fully rechargeable, easy to use, and can connect to any of your devices.
Amazingly natural sound
With Beltone Amaze, hear all of life's beautiful and delicate sounds, from a grandchild's exciting story, a quick joke in a busy restaurant to birds singing in the distance. And, if you're a music or theatre lover, you'll find live performances deeper and more fulfilling.
Beltone Amaze has faster processing and extended bandwidth, which means you'll be able to hear birds singing, leaves rustling, and grandchildren laughing better than ever. You'll even be able to more fully enjoy the textured tones of your favorite music! The new Impulse Noise Reduction feature reduces loud or uncomfortable sounds making the pleasant ones come through even clearer.
What makes the Sound Quality in Beltone Amaze so special? Watch the video to find out.
Amazingly rechargeable
Make fiddling with batteries a thing of the past. Thanks to the Beltone Amaze integrated lithium-ion battery, you will no longer need to replace batteries. Recharging is simple. Place your hearing aids in the charger overnight, and they will be ready again in the morning. If you forget to charge your hearing aids, no worries! With just 30 minutes of charging, Beltone Amaze is good to go another eight hours before the next charge.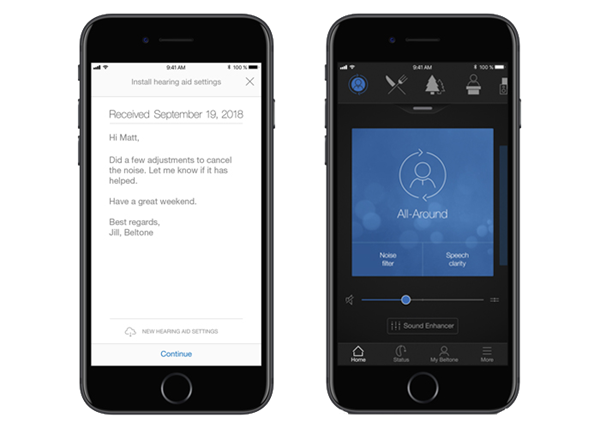 Amazingly connected
Wireless accessories and Made For iPhone connection mean you can connect Beltone Amaze to any of your devices. The improved streaming technology allows you to stream music, movies, and phone calls right to your hearing instrument, without losing any sound quality.
You can easily control your hearing aids remotely with the Beltone HearMax™ app. With a few simple taps on the screen, you can discreetly adjust the program and volume on your hearing aids, check the battery status, and even change speech focus–all from your smartphone.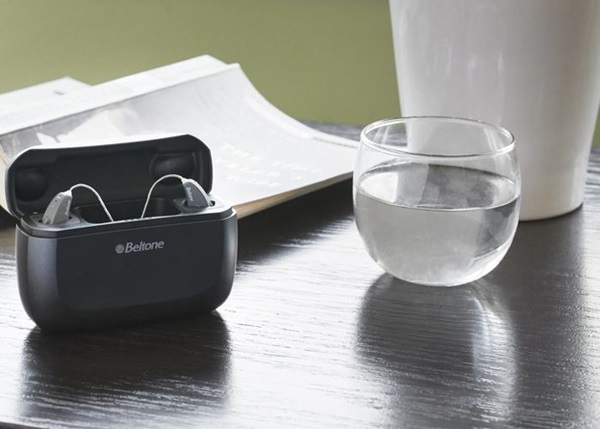 Beltone Rely™
Great hearing for everyone.
Rely on your hearing aids.
Your hearing loss shouldn't hold you back from living life.  That's why Beltone Rely is designed to deliver great sound quality, a comfortable design that fits you and the option of long-lasting rechargeability.
The benefits of Beltone Rely™:
Complete and essential hearing aids designed to hear life to the fullest and the sounds that matter most
Connectivity, streaming, and the option of rechargeability to keep you connected to your life
Dedicated support and care, even from the comfort of your home
Hearing aids for all types of hearing loss in a variety of colours
For more information on Beltone Rely™, please go to Beltone.ca