Built from the heart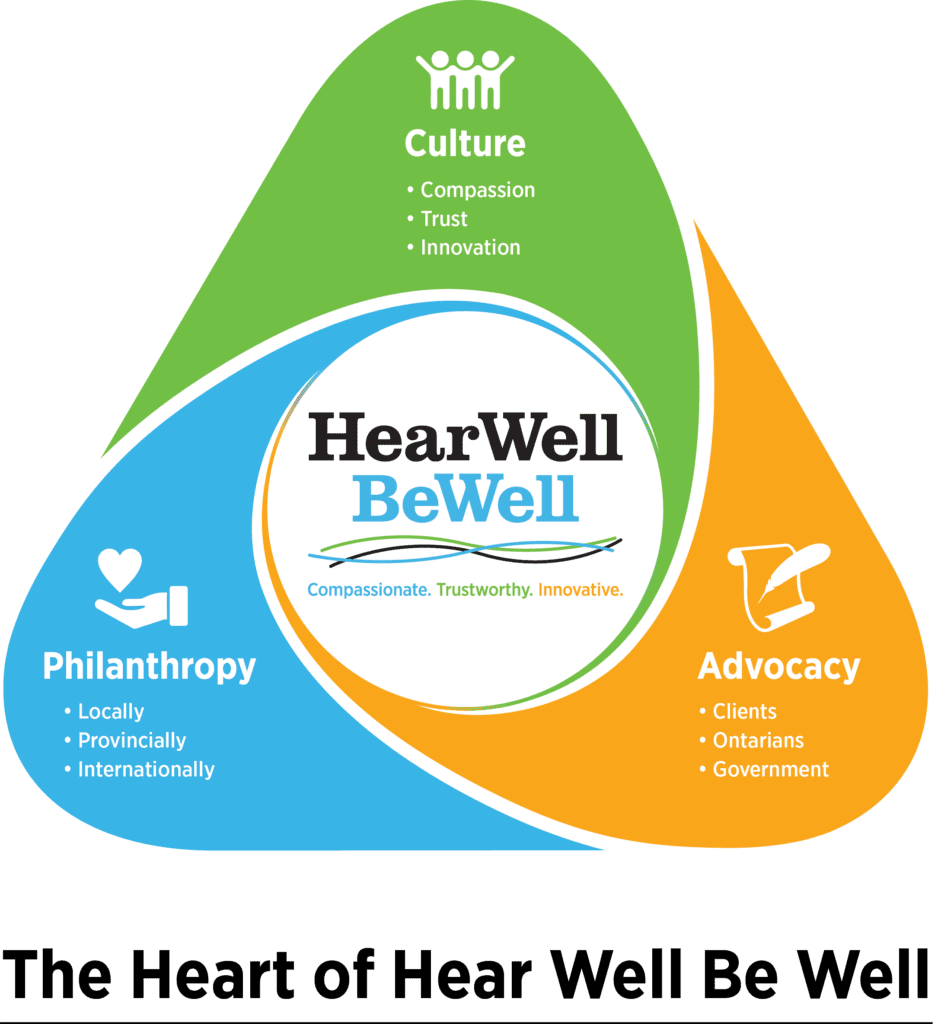 40 years of knowledge and experience
The Tiede family has been delivering excellence in hearing solutions and care since the mid-1980s. In that time, dramatic changes have taken place in the world of hearing aids. Being part of that evolution has given the teams at Hear Well Be Well the ability to recognize great innovations in treating hearing loss and bring them to their clients.
With 13 locations in Ontario, serving rural, small and mid-size communities, Hear Well Be Well is proud to be the rare thing in the hearing industry – family-run hearing clinics celebrating 40 years of service to our communities.
The heart of Hear Well Be Well
Hear Well Be Well is built on three key elements. Our culture, our philanthropy and our advocacy.
Our culture
Our Value Statement says it all: Compassionate. Trustworthy. Innovative.
Compassion is our most guiding tenet. Discovering you have hearing loss, even if you suspected it prior to your hearing test, can be a shock. We take the time to make sure you understand your hearing loss and the options for treating it. Every client is treated like part of a caring family.
You can trust your hearing test results are accurate. With one of the most extensive testing processes in the industry based on the most up-to-date technologies, your hearing test helps guide you and your specialist to the right hearing solution unique to you.
As an independent hearing clinic, you can trust us to offer the best hearing solution for your unique needs. Being able to work with all the hearing aid manufacturers gives you greater choice to find the hearing aids that deliver the quality and features you want.
It's not just technology that's changing. Innovation is alive and well at every one of our offices. Teams are encouraged to recognize opportunities to do better and bring new ways of looking at things. Our focus on innovation has helped us achieve, and retain, a 4.9 out of 5 stars on Google Reviews.
Our philanthropy
Our Gift of Hearing program is one component of our philanthropic efforts. Gift of Hearing is part of our philanthropic efforts locally, provincially and internationally. Locally, we also support community groups through donations, sponsorships and no charge presentations. We also provide free hearing test clinics in many of our communities.
Our advocacy
Standing up for our clients and our communities is a natural action for us. For our clients, we advocate for them with insurance companies, their employers, and government agencies. Our advocacy with the government, through petitions and education, benefits all Ontarians.
Getting treatment for hearing loss is important. Visit our petition asking the Ontario Legislature to increase the Assistive Devices Program (ADP) hearing aid grant so more people can access the sounds of their lives.