Every manufacturer has accessories that can enhance your hearing aid performance and your experience. Hear Well Be Well can provide the accessories you want from whatever manufacturer creates your hearing aids. Here's a few to give you an idea of the add-ons that might fit your lifestyle.
PerfectClean®
Get the ultimate hearing aid cleaning system that washes away ear wax, uses heat to remove moisture and UV-C light to disinfect!
Features:
PerfectClean® Solution dissolves earwax, cleans and disinfects hearing aids in one step
Removes moisture with heat, no desiccant needed
UV-C light kills bacteria
2 hour and 30-minute wash cycle
For all types of hearing aids (RIE/BTE, ITE/ITC)
Includes one PerfectClean® Solution Cartridge that lasts for 30 cycles (extra cartridges sold separately provide 45 cycles)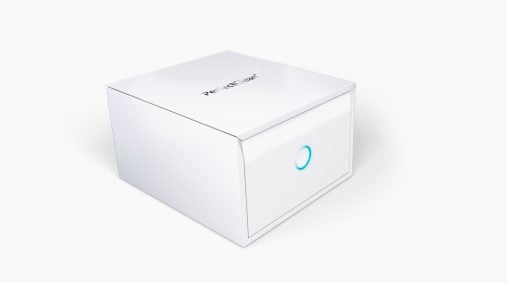 Odinell Audinell
Simple, effective earwax removal spray
Recommended for those who wear hearing aids, wireless earbuds, hearing protection or experience excessive or uncomfortable earwax production. Just 1 or 2 sprays per ear will dissolve earwax and clean your ears. The gentle isotonic solution dissolves your earwax and cleans your ear canals.
With a nozzle shape that protects your ear canal, the volume and velocity of the washing solution is controlled for best effect.
A great product to protect your ears' health!
Beltone™ direct line™ accessories
Direct phone link 2
Beltone™ Phone Link 2 is the only device to use 2.4 GHz technology to create a secure connection between your Bluetooth® phone and your hearing aids. It allows you to hear your phone ring in your hearing aids, speak handsfree, and enjoy crisp, clear conversation in both ears.

It can also serve as a remote control to change your environmental programs and adjust hearing aid volume. The Beltone™ SmartRemote™ app works with Phone Link 2 to turn an iPhone® or Android™ phone into a discreet, full-function remote control.
myPAL pro
Beltone™ myPal is a small portable microphone that you give to someone you want to hear. It captures sounds clearly and streams them directly into your hearing aids. It can also be placed near the television to stream directly to your hearing aids. It can also connect to your computer or audio device to stream audio to your hearing aids.
Watch this video to hear the difference for yourself.
Features:
Wireless range of up to 80 feet (clear line of sight)
Directional microphone
On-board volume control and mute functionality
Drop detection, which mutes the sound transmission if it's dropped from a height above 29.5"
Visual status indicators help you keep an eye on current status and mode of operation
Battery life of up to 10 hours
**Used horizontally, automatically switches to table mode for picking up multiple speakers
**Extended choice of connectivity options
**Not included in myPAL Micro model.
Direct remote control 2
Beltone™ Direct Remote Control 2 is a handheld device that lets you effortlessly and discreetly monitor and change your hearing aid settings. The large screen and simple controls allow you to switch environmental programs, and adjust the volume of sound you hear coming from the environment, or stream directly from your TV, computer, or phone without ever touching your hearing aids.
Features:
Mute button allows you to tune out surrounding noise
Adjustable microphone and audio keeps primary source volume at comfortable levels
Wireless antennae can be positioned to provide a strong signal to your hearing aids
Colour display includes easy-to-read icons that indicate program in use, volume level, and remote control battery status
Rechargeable battery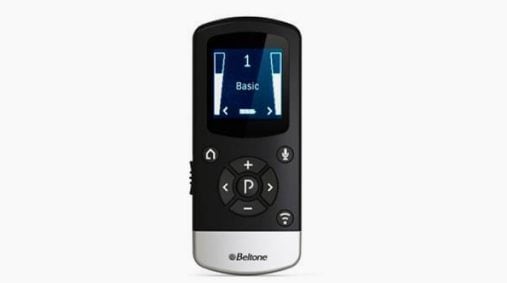 Direct TV link 2
Beltone™ TV Link 2 is the first direct-to-ear way to watch TV. It uses 2.4 GHz technology to wirelessly stream high-quality stereo sound from your television to your hearing aids. It can also stream sound from other audio sources such as home stereos and PCs.
Features:
Adjusts TV volume to your preference, without changing what others hear
Can be set to eliminate background noise
Connects to almost any television, including the newest models
Dolby® Digital conversion helps ensure compatibility with any type of audio signal
Delay adjustment function synchronizes audio and video for the best TV viewing experience.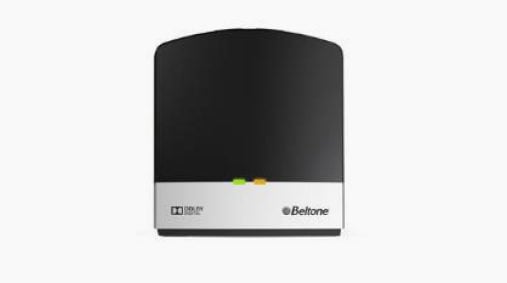 Other accessories
Home phone adapter
Home Phone Adapter – by connecting your land line to this adapter, your hearing aids will stream through your Direct Phone Link 2 (or other Bluetooth accessory) to your home phone. A 35 ft transmission range.