Christmas 2022 Gift of Hearing Recipients
Sometimes it's the little things you miss when you have hearing loss. The sound of water. The high notes in music. Other times, it's important things. Like what your children or the doctor are saying.
Hearing loss impacts people in a variety of ways but all of them become hardship. Challenges in relationships, safety in unfamiliar environments, overall health through isolation and depression.
Hear Well Be Well understands not everyone can access hearing health solutions and for nearly 10 years, we've been delivering hearing aids and services at no charge to people in Ontario through the Gift of Hearing program.
In 2022, after the difficulties of COVID-19, we were pleased when manufacturer Signia stepped up to help us deliver a second round of Gift of Hearing. The impartial selection committee read so many nominations and selected these five:
Alliston Gift of Hearing Recipients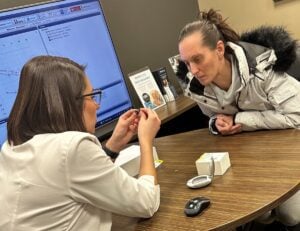 Dunja Rakocevic is a young mother of twins. She noticed she was having trouble hearing when she was in her 20s. Among some other very serious health issues, Rakocevic found her hearing loss affecting her interactions with her children and her effectiveness at work.
"This is going to change my life in a big way," Rakocevic said about receiving her hearing aids. "I won't have people angry or upset with me anymore. I'm going to be able to be a part of more things. I had a hard time hearing what my kids were saying even when they were right beside me."
"My hearing loss affected me a lot at work," she added. "I was always having to ask coworkers to repeat themselves. It frustrated me and my coworkers. I felt like I was making more work for them."
"It was a real struggle during COVID with masks and partitions," explained Rakocevic. "I was constantly trying to piece together what people were saying to me. I mentioned to my coworkers that they won't be able to whisper near me anymore because now I'll hear everything."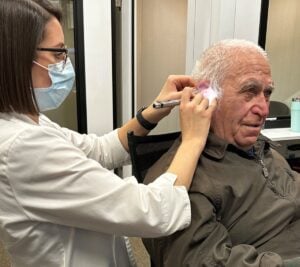 Luciano Sciulli, a retired pizza maker and the second Alliston recipient of Gift of Hearing, really noticed his hearing loss approximately six years ago although it's likely it started many years before. According to Statistics Canada, approximately 60 per cent of adult Canadians have hearing loss, tinnitus or both. Many are unaware of the hearing loss as it can creep up over time with people adjusting their habits to compensate.
"I'm so happy," Sciulli stated. "It's like winning the lottery. My wife will be really happy too. She was always annoyed I had the TV too loud."
Gravenhurst Gift of Hearing Recipient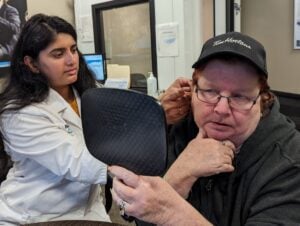 For Santa Beaver of Gravenhurst isolation became a way of coping with her hearing loss. She became so isolated she stopped leaving the house.
"Due to her feelings of awkwardness and frustration over the situation, she rarely came out to gatherings anymore, and we really missed her laughter and quirky sense of humour," said Theresa Buker, one of the people who nominated Beaver for Gift of Hearing.
"There was no point in talking to anyone because I couldn't hear them," Beaver expressed. "There was no clarity to the conversation. I could hear some noise but there was no clarity."
"I think sometimes people took it to mean I didn't care, especially my husband. Eventually I told my husband I just can't hear."
"Socially my life will definitely be improved," Beaver explained. "I go to lots of ladies' and sewing groups and now I'll be able to hear."
"They won't be able to talk about me, because now I'll be able to hear them," she laughed.
Beaver had been to other hearing clinics and was dissatisfied with the testing results and recommendations.
"I trust Hear Well Be Well more than anyone. I've been to others, both here and in the States," she added. "The other businesses are obviously in it only for the money. Hear Well Be Well did more testing and I trust the results and the people. And I'm not just saying that because I'm a Gift of Hearing recipient."
London Gift of Hearing Recipient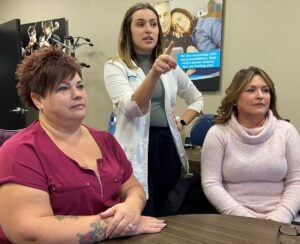 At four-years-old, Tanya Campbell was diagnosed almost completely deaf and underwent emergency surgery to have tubes placed in her ears. She also had surgery to create tear ducts. The sinuses and ears are all connected so difficulty followed her through life.
Now in her 50s and a single mother, Campbell has been reading lips and body language to understand people around her. As a Direct Support Worker, supporting those with disability on a daily basis, she struggles to give verbal reports and communicate with her clients.
"The last couple years have been hard because of COVID and everyone wearing masks," she explained. "Lip reading just wasn't possible. It could get fairly frustrating for both me and those around me."
"I nominated her because I knew she had hearing loss and I knew she didn't have the money to get hearing aids," explained Tracey Nafziger, Campbell's sister. "Both my mother and father have hearing loss and wear hearing aids so there's no emotional barrier to wearing hearing aids. I'd watch Tanya pick up a few words then repeat them back to clarify. Sometimes she just agrees, even when she shouldn't."
Midland Gift of hearing Recipient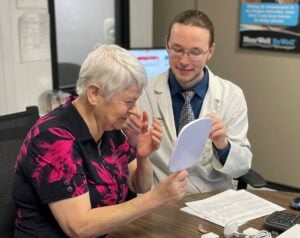 For Cindy Weber of Tiny Township, that simple sound of water dancing over the rocks was just one of the things she's never experienced.
"I had meningitis when I was a kid," Weber explained. "I went into hospital when I was six; was still in hospital on my seventh birthday. My hearing was affected, and I taught myself to read lips. Having hearing aids – this is going to be a whole new life for me."
Weber was nominated for the Gift of Hearing program by her daughter, Erika of Victoria Harbour. Her daughter explained as children they always had to talk loudly, and her mother was always agreeing to things, sometimes things that agreeing wasn't the right way to go.
"My mother was always agreeing with things because that was easiest," Erika explained. "Then she agreed to a DNR (do not resuscitate) at the hospital. That wasn't something to agree to in this case and it was scary."
Free hearing aid program helps Ontario woman hear for the 1st time in 60 years
"COVID made things even more difficult," Weber stated. "People wearing masks made it impossible to read lips. Sometimes people would get so mad and walk away because I had to ask them to repeat themselves so many times."
"I would stay home so I wouldn't embarrass my husband or my kids."
Weber has also stayed away from babysitting her one-and-a-half year-old grandson because she was afraid her hearing loss would hinder her ability to care for him.
"The best thing is going to be hearing my grandson," Weber smiled. "This is going to be a whole new life for me."
Weber was emotional when she thanked the staff at Midland's location of Hear Well Be Well.
"I don't know where I'd be without Hari and Michelle," she explained. "I'm just an ordinary person; I don't believe this. I'm so thankful to have friends like this. People need to know what it's like here at Hear Well Be Well – there's nowhere else like it."