Hear through the noise
Beltone Achieve hearing aids are weatherproof and sweatproof, making them the perfect choice for any lifestyle. Enjoy the weather, rain or shine, and focus on having fun instead of worrying about your hearing aids. They offer vastly improved speech clarity in noise compared to previous technologies. With Surround Sound included in the technology, you can now stay confident and tuned in to what's happening in front of, behind, next to, above and below you.
With Beltone Achieve, you can enjoy all-day battery life on a single charge, which means these hearing aids are always ready to take on the day with you. (All-day battery on 1 charge is based on average use time of 12 hours when streaming 100% of the time across all styles. Battery life can vary by use.)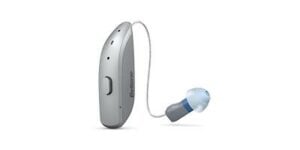 Receiver-in-Ear (RIE)
Product Information:
Most popular style
Works with unique ear shape
All-day comfort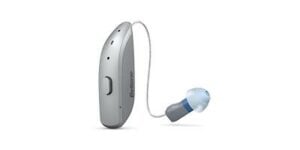 Mini Receiver-in-Ear (RIE)
Product Information:
Smallest rechargeable style
Discreet fit
All the benefits of RIE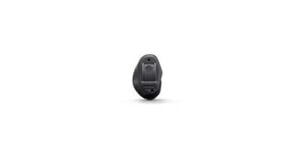 Completely-in-Canal (CIC)
Product Information:
Small and discreet
Custom design
Prevents wind noise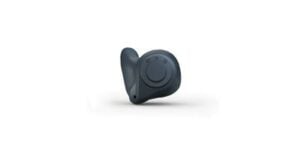 Custom Rechargeable
Product Information:
Look like earbuds
Custom fit
All-day charge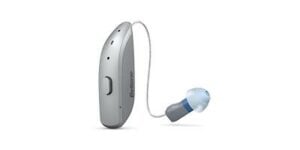 Behind-the-Ear (BTE)
Product Information:
Budget-friendly
Easy to use
Diverse colors available
Top technology in clarity, connectivity and focus
There's so much technology making life easier, your hearing aids should be no different. With direct audio streaming to your hearing aids, you can enjoy crystal-clear audio anytime. With Bluetooth® Low-Energy capability, you can stream music, podcasts, audiobooks, phone calls, or even your GPS directly to your hearing aids.
Unlike other hearing aid devices, Beltone employs mix-in audio streaming. This feature eliminates any connection delays to ensure you never miss a word. Whether it's your favorite tune or talking with a loved one, you'll hear every precious moment with the Beltone Achieve.
Countless ways to connect
Every Beltone Imagine hearing device is compatible with the Beltone HearMax™ app. This intuitive app lets you easily control your hearing devices from your smartphone. You'll have complete control over things like noise reduction, program adjusting, speech focus, volume, and so much more. The Beltone HearingMax app can be used from any iPhone, Android, or Apple Watch. Just download the app to get started.
The connectivity features of the Beltone Imagine can easily keep you connected to your favorite technologies. We offer a wide range of accessories that allow you to personalize your listening experience.