We enjoyed a spectacular evening of good old country entertainment, dinner and comradery at the South Huron Recreation Centre on Friday, September 25. Master of Ceremonies Bob Heywood, welcomed almost 200 guests at the first ever Hear Well Be Well™ "GOOD VIBRATIONS", charity concert. What better way to celebrate hearing well than through the sheer enjoyment of a night of great music, dancing and friends?
The concert benefitted the One Care Easy Ride Program in Huron and Perth Counties. Tickets were $25 and provided guests with a BBQ Pulled Pork dinner along with a night of great music and dancing. Musicians Greg Gallello and Jamie Baldwin kicked off the evening, followed by The Ozark Country Band, and Rosemarie Overholt as they paid tribute to country superstars such as Merle Haggard, John Denver, Dolly Parton and so many more! The crowd was so pleased with the entertainment, they rallied for 3 encores.
Our very own Rosemarie Overholt is the daughter of local sensation Joe Overholt and she expressed that she was "so very proud – not only to be able to honour my father by singing his songs to many of his followers and everyone there – but to be part of the Hear Well Be Well™ family."
Thanks to the generous support of many local businesses, the silent auction was a huge success. Proceeds will go to ONE CARE Home & Community Support for the One Care Easy Ride Program. One Care provides a wide range of services to help people live in their own homes and communities, including appropriate transportation as one of the essential keys to independent living in Huron and Perth Counties.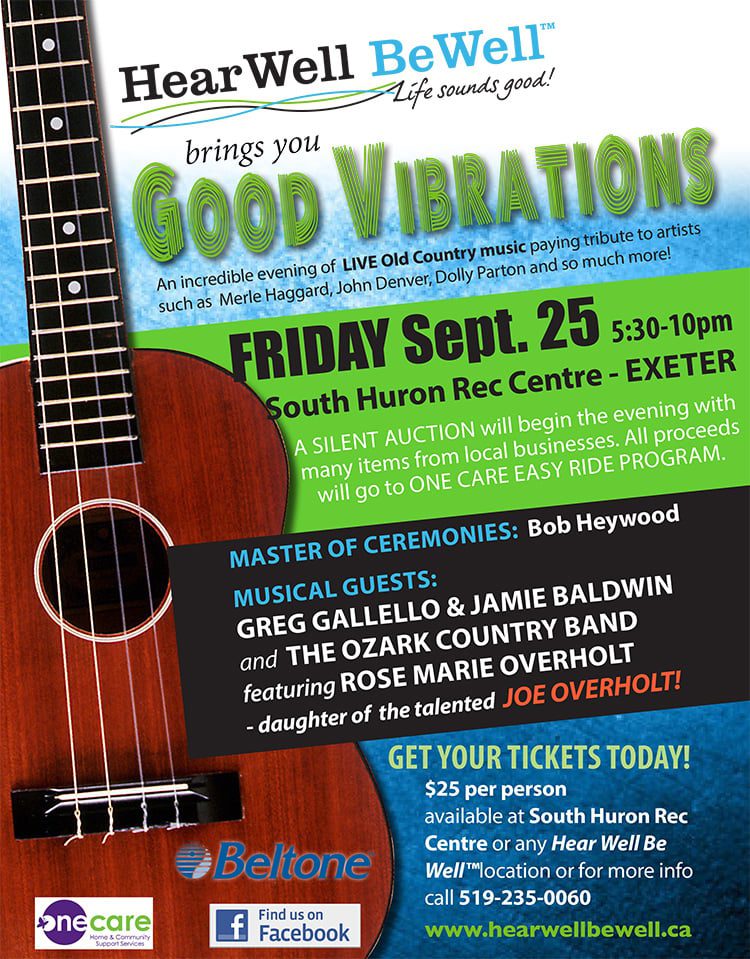 Request a free hearing screening or Take our online hearing test