Being able to hear again is a wonderful gift for all those who can access hearing aids. It becomes even more life-changing when hearing aids are given to someone who hasn't been able to access hearing support. That's the mission of our Gift of Hearing program. Each year, nominations are opened so people through our areas can tell us the story of someone in their life that would benefit from hearing aid technology and the services offered at Hear Well Be Well.
In 2023, we were able to help five people in Ontario regain their hearing. For each of them, it made a world of difference.
Bolton supports Ukrainian war refugee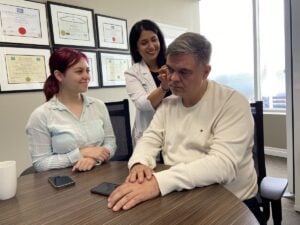 The impact of childhood illness, compounded by proximity to bombing in Kyiv since the beginning of the war in Ukraine, left a newly arrived refugee with hearing loss that was slowing down his assimilation into Canadian society and the workforce.
Serhii (first name only because of safety concerns for those left in Ukraine) arrived in Canada approximately six months ago. He joined his family who had been separated from him for nearly nine months.
Serhii's 14-year-old daughter, Anna, acted as translator during Serhii's hearing tests and hearing aid fitting. She studied English at school in Ukraine and had the advantage of practicing her English in Canada for many months prior to her father's arrival.
"I learned I had hearing loss when I was 18 and tried to join the army," Serhii explained. "The doctor who did the health check said I had the hearing of a 60-year-old. So, I didn't pass the health requirements to join the army."
The family lived in the centre of Kyiv and when the war began, this was a focal point for Russian bombing. Serhii was in fairly close proximity to bombs as they exploded on a number of occasions.
"The first time I was near a bomb when it went off I was at work," he said. "Because we lived in the part of the city where the president is, when the Russians started the war, they attacked the area where the president lives."
"We spent 16 hours a day, every day, in the subway, to get away from the bombs," Anna mentioned. "There were more than 400 people and only two toilets. We had to bring water to drink and slept on cold floors. Many people got sick."
For Serhii, getting the Gift of Hearing from Hear Well Be Well, will change his life for the better.
"I will learn to speak English," he stated. "It's hard to learn a new language when you can't clearly hear the words."
Serhii said words sounded like they were underwater prior to getting his new hearing aids. He's also looking forward to hearing music properly for the first time in years. Serhii attended music school briefly when he was younger however the teachers didn't believe him when he said he couldn't hear the notes.

Thornbury resident trades in decade old technology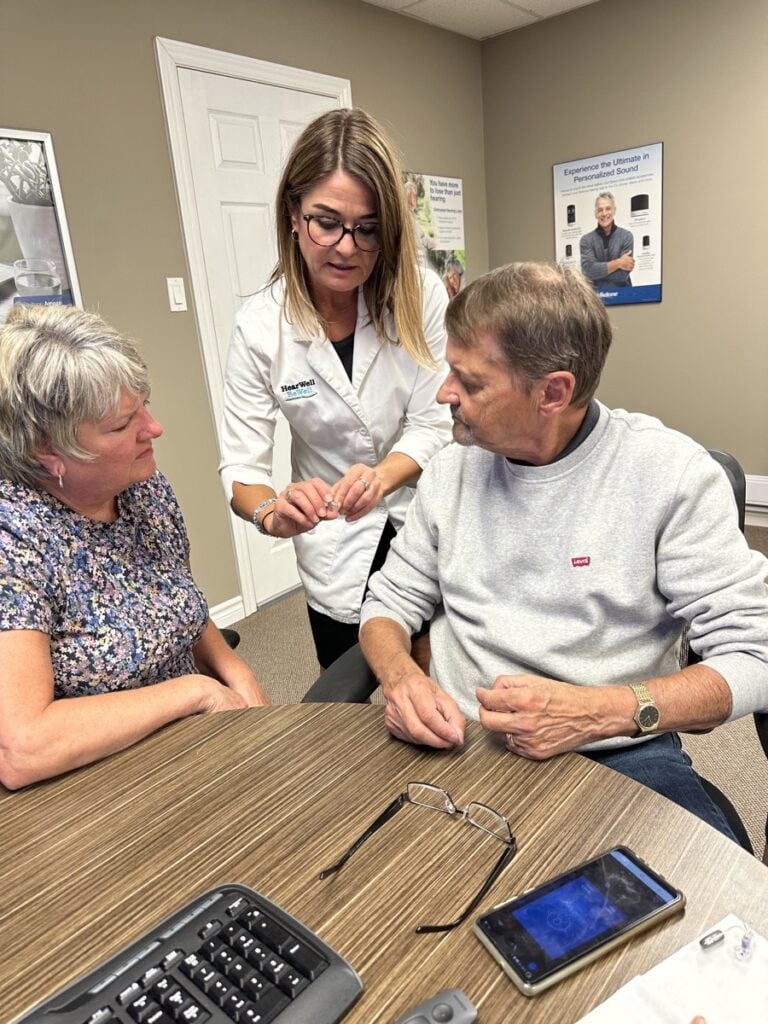 While old hearing aid technology is better than no hearing aid, the technology inside hearing aids today is leaps and bounds more effective than even just 10 years ago. For Wayne Keenan of Thornbury the updated sound and clarity he'll have with top-of-the-line technology from Hear Well Be Well's Gift of Hearing will make his life easier and happier.
Keenan has been a salesperson in automotive parts for 40 years. His day-to-day activities require him to interact with customers both in-person and on the phone.
"I need the ability that, if I can't hear someone on the phone, I need to be able to adjust the sound in my hearing aids," Keenan said.
"Wayne mostly noticed it at work," his wife Cecile added. "He couldn't hear me and at work he was feeling isolated. It was frustrating. I think both of us were frustrated."
"The hardest part of not having good hearing," Keenan explained, "Is you start self-doubting. You doubt yourself. You start getting down on yourself. You think that you're alone. People start looking at you like 'Can't you understand me? Don't you understand me?' Mainly it's self-confidence. You lose your self-confidence."
According to his wife, Keenan's relationship with the world changed. She found him to be depressed and not associating with other people because he couldn't hear what people were saying.
"He just disconnected," she said.
"As hearing aids become less effective, whether from age or from increased hearing loss, your brain adapts to the lesser sound," Mikela Broadhead, Hearing Instrument Specialist at the Meaford location, commented. "You start compensating by going back to lip-reading, isolating yourself. And as your brain starts adapting to the lesser sound, parts of it can be dramatically affected. You're back in the risk category for developing dementia or having a serious fall."
"The Gift of Hearing is priceless. It means everything to me. To be able to have the latest technology. It brings out my confidence again," Keenan said. "Hear Well Be Well changed my life from the moment I walked in the door."
After years of not hearing, Wellesley resident gets Gift of Hearing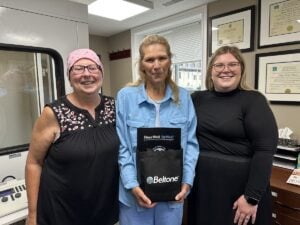 After 28 years of no help for her hearing loss, Wendy Brown of Wellesley can now hear conversations. A recipient of Hear Well Be Well's 2023 Gift of Hearing program, Brown has struggled through much of her life.
"No one ever said that just because I had surgery didn't mean I couldn't wear hearing aids," Brown stated. "I lost my hearing in both ears in my early 20s. I had corrective surgery in one ear. I did have one hearing aid years and years ago but I've never had two hearing aids."
Lynda Schwarz, a friend since school days, nominated Brown for the Gift of Hearing.
"We went to school together," Schwarz said. "I started noticing her hearing loss after high school. Our first visit to Hear Well Be Well was really emotional. Finally, she's getting proper care."
Brown is a residential and commercial cleaner. She has struggled to hear and understand instructions from her coworkers and clients.
"Now I'll be able to hear my clients clearly," Brown added. "And what they're trying to convey to me. I'll be more confident because I can hear what's going on around me."
Paige Lockhart is the Hearing Instrument Specialist at Wellesley's Hear Well Be Well and the soon to open New Hamburg location. She emphasized how modern hearing aids are a good answer for Brown.
"It's amazing what technology can do now," she explained. "It's been so long since Wendy's worn hearing aids, and even then she only had one hearing aid. The increase in technology's capabilities is valuable for her. She needs more technology. She needs detailed technology to help her hearing loss."
Brown received top-of-the-line hearing aid technology from Beltone and Hear Well Be Well provides on-going testing and service, all at no charge.
"Everyone here at Hear Well Be Well is wonderful," Brown said. "I came in with some anxiety but they made me comfortable right away."
Two Midland residents get the Gift of Hearing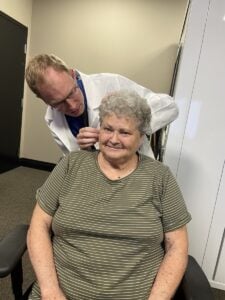 For Mary Ney of Penetanguishene and Debbie White of Midland having the most recent technology in hearing aids will change their lives.
Ney worked manufacturing in the 1960s before hearing protection at manufacturing facilities was mandatory.
"Way back in the 60s, they didn't think of hearing protection," Ney explained. "I worked on a press making dials for stoves and there was banging, banging, banging right behind me. I worked there in the 60s, left and had my children in the 70s then went back in the 90s."
According to Peter Noakes, hearing instrument specialist at Hear Well Be Well's Midland office, hearing protection became a must in 1991 for work environments where the sound over a work shift is averaged to 85db or louder.
Ney noticed her hearing was changing about seven years ago. It started with a high-pitched buzzing. She didn't realize that buzzing, called tinnitus, is often related to hearing loss.
"A lot of times, that buzzing, clicking, ringing, is your brain trying to compensate for missing sounds," Noakes explained. "Hearing loss can be kind of like missing keys on a piano. Your brain wants to fill in the sound of those missing keys."
"Hearing aids can fill in the blanks, as well as help you hear better," he continued. "Having hearing aids stimulates the brain, the brain is now getting signals – ticking of clocks, humming of the fridge – that give the brain something else to focus on."
Ney's family noticed her hearing loss before she did.
"People would ask me if I had hearing loss," Ney stated. "I didn't realize I wasn't hearing them correctly. Then I had to start asking people to repeat themselves. I didn't really think my hearing was bad enough to benefit from hearing aids."
"It's usually the people around you who notice it first," added Noakes. "You may not realize what you're missing until you try on hearing aids and hear the difference."
For the other Gift of Hearing recipient, hearing loss is something she has lived with most of her life.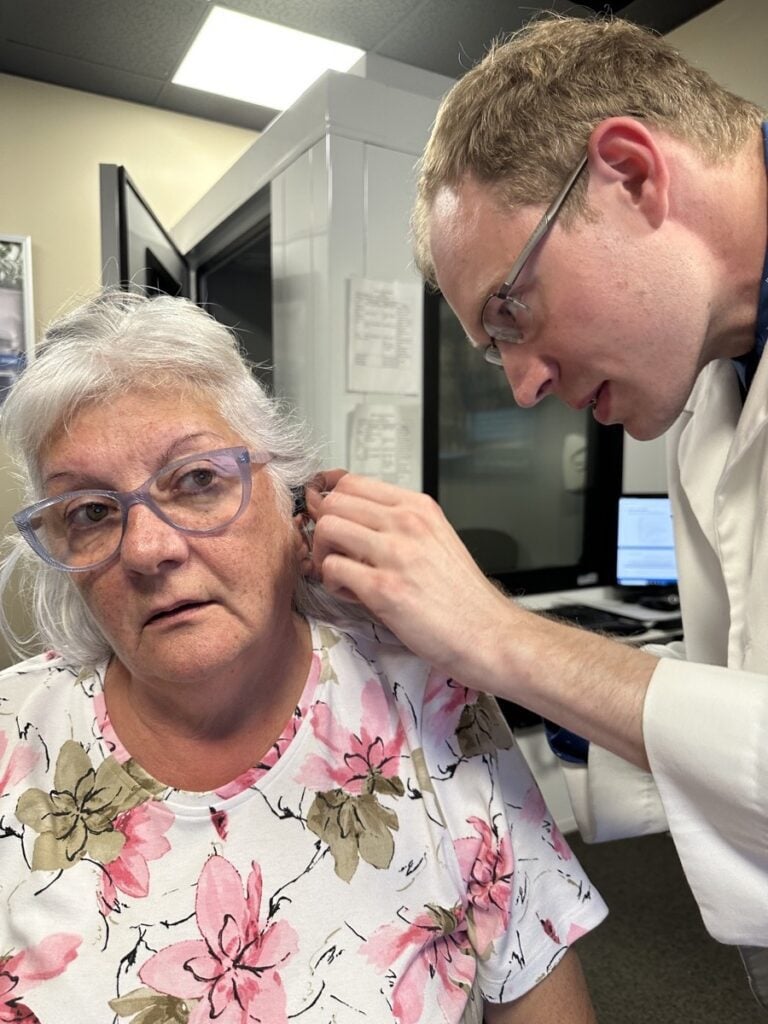 "I initially wore hearing aids in my 20s but I only had one hearing aid because of the cost," White said. "The government grant (from Assistive Devices Program) helped but I could still only afford one. Simcoe County's Deaf Access organization provided the last pair of hearing aids I had. Thank goodness for them."
White is unsure of what caused her hearing loss. She was in her 20s when a doctor at a walk-in clinic discovered it. She has seen a number of specialists over the years but still has no explanation of the hearing loss.
"It's frustrating not knowing how it happened," she explained. "I'm the only one in my family with it. All those years of feeling foolish and not realizing I was missing things. I've mostly gotten used to it but sometimes it makes me depressed. I don't want to go out; I'd rather not be there because I always have to ask people to repeat the conversation."
White feels that her family doesn't have patience for her anymore. "Even my five-year-old grandson gets upset because Grams can't understand what he's saying. After he gets upset, he just walks away. I keep telling him 'Grams' ears are broken'."
For both Ney and White, they're looking forward to hearing things they've been missing.
"I'm going to be able to hear the people talking in the front seat of the car when I'm in the backseat," Ney laughed. "I can't believe how good I can hear with these hearing aids. People better be careful what they say around me now, because I'll be able to hear them."
"I've never heard birds singing," White added. "I actually couldn't even hear a fire alarm going off. My daughter is getting married this month and it will be so amazing to hear the ceremony. Without these hearing aids, I wouldn't have been able to hear it, just read the speeches if people wrote them down."
---
The Gift of Hearing program is an annual activity for the 13 locations of Hear Well Be Well, independent, family-run hearing clinics in Ontario. For spring 2023, manufacturer Beltone provided the hearing aids and Hear Well Be Well provides on-going testing and service, all at no charge.
The Gift of Hearing program has been running at Hear Well Be Well since 2014. Nominations are accepted during a set period each year. Each nomination is reviewed by a selection committee, and unlike a contest where it's a random draw, the committee makes selections based on the stories and information provided in the nomination. The next nomination period will be May 2024.