The great Soundgear phantom could be yours!
Enter to win*!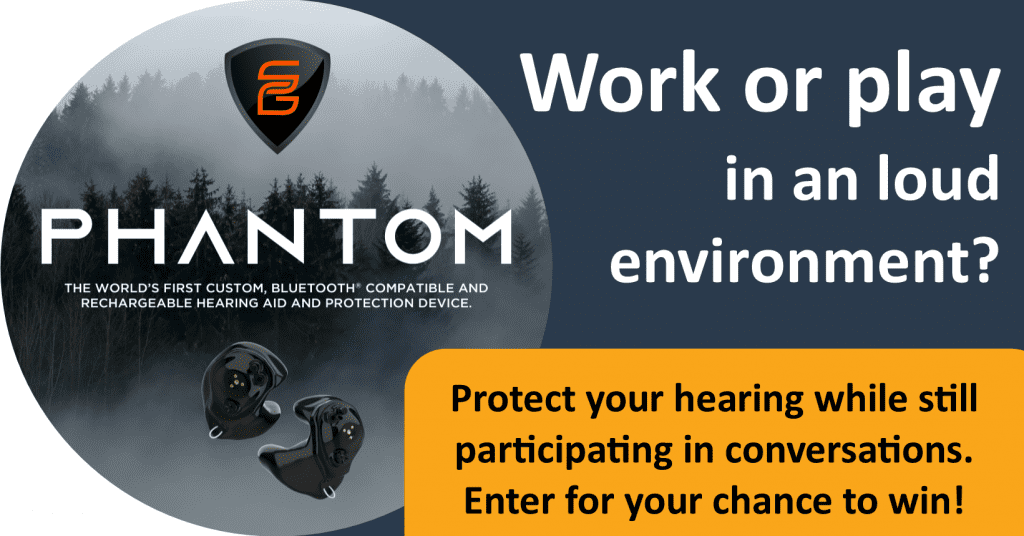 Hear Well Be Well is proud to partner with Starkey to give you a chance to win the amazing SoundGear Phantom. Complete the form on this page for your chance to win!

Contest closes September 30, 2022.

SoundGear Phantom is the world's first custom, Bluetooth® compatible and rechargeable hearing aid and hearing protection device. With unrivaled custom fit, Phantom has the most advanced Noise Reduction technology to help those with normal to moderate hearing loss. It's great for hunters and construction workers, aviation workers, workers in loud manufacturing environments, staff at bars and concerts.

You'll hear environmental sounds and conversations more clearly while offering protection from both sudden and continuous sound.
* Prize value approx. $2,000. Contest closes Sept. 30/22. Winner must attend a Hear Well Be Well location for fitting.
Contest rules
No purchase is necessary to enter.
Prize is one set of Starkey SoundGear Phantom Hearing Aid and Protection Devices. Retail value of $2,027.
Entries must be received by September 30, 2022. Hear Well Be Well takes no responsibility for lost, misplaced or stolen nomination forms.
Draw will be held October 1, 2022 at the London head office of Hear Well Be Well, 2-615 Fanshawe Park Road West, London, ON.
Winner must be over 19 years of age.
Winner must be resident of Ontario.
Winner must be able to attend one of the Hear Well Be Well locations, in person, for hearing assessment and earmolds as the prize is a custom fit. Check here for locations.
Winner will be contacted between October 3, 2022 and October 7, 2022 by email or phone. Finalists will be screened according to the results of the hearing assessment.
Prize must be accepted as described and cannot be exchanged for cash.
Winner must agree to have their photograph taken and sign a release allowing Hear Well Be Well to share their name and image in appropriate marketing and education materials.
Hear Well Be Well reserves the right to terminate, suspend or modify this Contest, in whole or in part, at any time and without notice or obligation, if, in Hear Well Be Well's sole discretion, any factor or event arises that could interfere with the proper conduct, administration, security or impartiality of the Contest as outlined in these Terms and Conditions. Without limiting the generality of the foregoing, if the Contest, or any part of it, is not capable of running as planned for reason, including, but not limited to, infection by computer virus, tampering, unauthorized intervention, fraud, Contest errors or technical failures, which corrupt or affect the administration, security, fairness, integrity or proper conduct of this Contest, Hear Well Be Well may, in its sole discretion, void any suspect nominations and:
Terminate the Contest, or any portion of it;
Modify or suspend the Contest, or any portion of it, to address the impairment and then resume the Contest, or the relevant portion, in a manner that best conforms to the spirit of these Terms and Conditions.
Hear Well Be Well reserves the right, at its sole discretion, to disqualify any individual who tampers or attempts to tamper with the nomination process, the operation of the Contest, the Contest website page, violates these Terms and Conditions, or acts with any intent to annoy, abuse, threaten or harass any person involved in the Contest.
Limitation of Liability By participating in this Contest, entrants agree Hear Well Be Well and its authorized agents have no liability whatsoever for, and shall be held harmless against any liability for injuries, losses or damages of any kind (including direct, indirect, incidental, consequential or punitive damages) to persons or property resulting from the Contest, including the acceptance, possession, use or misuse of the prize.
Protection of Personal Information Unless otherwise authorized, any personal information provided by the entrant when they participate in the Contest, will be used only for the administration of the Contest however all parties may give their express, opt-in consent to receive electronic messages from Hear Well Be Well. All personal information Hear Well Be Well or its authorized agents collect will be handled in accordance with the Hear Well Be Well privacy policy.